The Insurance Training Center takes pride in delivering high quality courses on professional and management liability insurance and related topics. Our courses are designed by industry experts for insurance buyers and professionals. We cover topics from beginning to end and are an unbiased source of information with no other agenda than to provide reliable, practical, and up-to-date information.
The making of an ITC course
Our mission at the Insurance Training Center is to help increase the level of technical knowledge within the insurance industry and beyond by making learning enjoyable. Better informed professionals can provide a higher quality of service, deliver better results, and improve their own careers. Better informed insurance buyers can make better purchase decisions. What's not to like about that?
At ITC we love insurance – you read that right! To us, insurance is very interesting and we believe that if we take the right approach to teaching it, we can make it interesting for others too. That's why we founded this company and developed our unique approach to insurance education, one that helps us deliver great courses that inform, engage and inspire.
Unique approach to insurance education
Quality information
Without question, our top priority is high quality, timely and unbiased information. We take our responsibility as educators very seriously. We work with subject matter experts and we've have built multiple checkpoints into our course development process to validate course content. After we publish a course the process continues. We conduct regular course reviews, watch for industry updates and take student feedback seriously.
Structured and scripted specifically for interactive online delivery
An online course is very different from a lecture or seminar. Online courses need to take into consideration how people learn and how they interact with technology. Some students work through an entire course in a single sitting, much like they would a lecture; many, however, do not. We structure our courses to accommodate both styles by dividing major topics into 5 minute insight lessons that fit tightly together yet also stand well on their own.
Have you ever sat in on a lecture, seminar or webinar and…. found your mind wandering, been distracted by your smartphone, or simply struggled to stay awake? Even with the most interesting topics that can happen when information flows only in one direction – from the instructor to the student. Without the benefit of face-to-face interaction, we knew our courses would need something extra to keep students engaged.  And so, we include mini-quizzes and interactive exercises to involve students in their learning process.
Designed and delivered to inspire
ITC strives to provide courses that not only inform and engage but also inspire. That's why we work hard to build courses that 'speak' to students and empower them to apply what they learn. Here's what you can look for in ITC courses:
A focus on the practical. We design out courses to deliver knowledge one can use.
More than just technical insurance information. We go a step further by examining how that information can be applied, by brokers, and by insurance buyers.
We also use stories, real life examples and entertaining illustrations to bring concepts to life and to illustrate their practical application.
Our 7-step process
Creating courses that inform, engage and inspire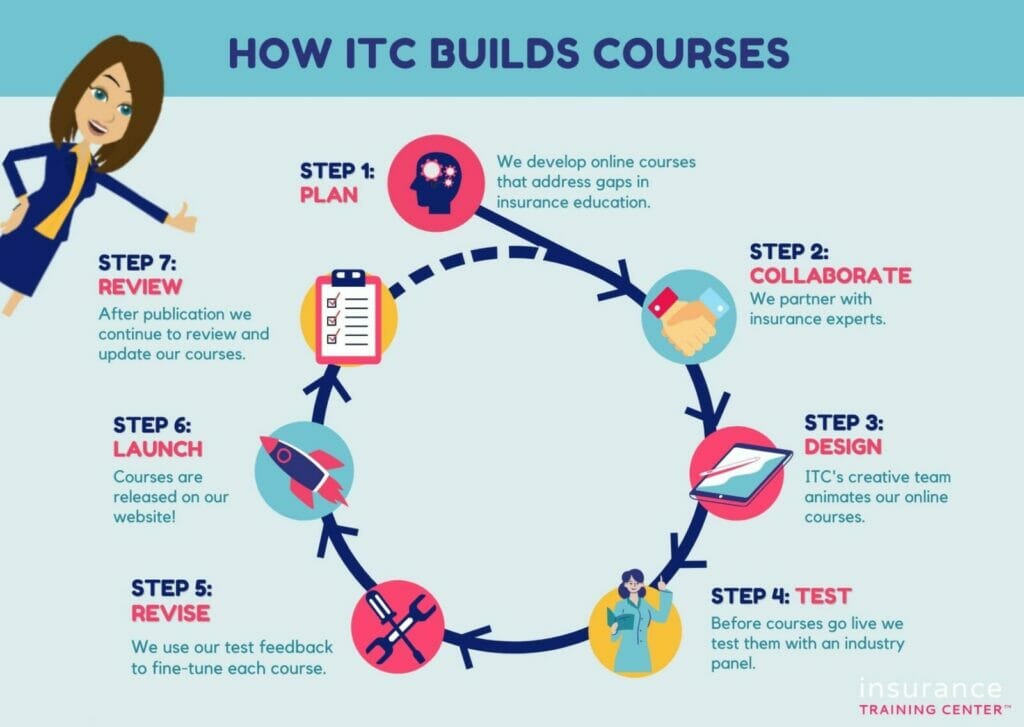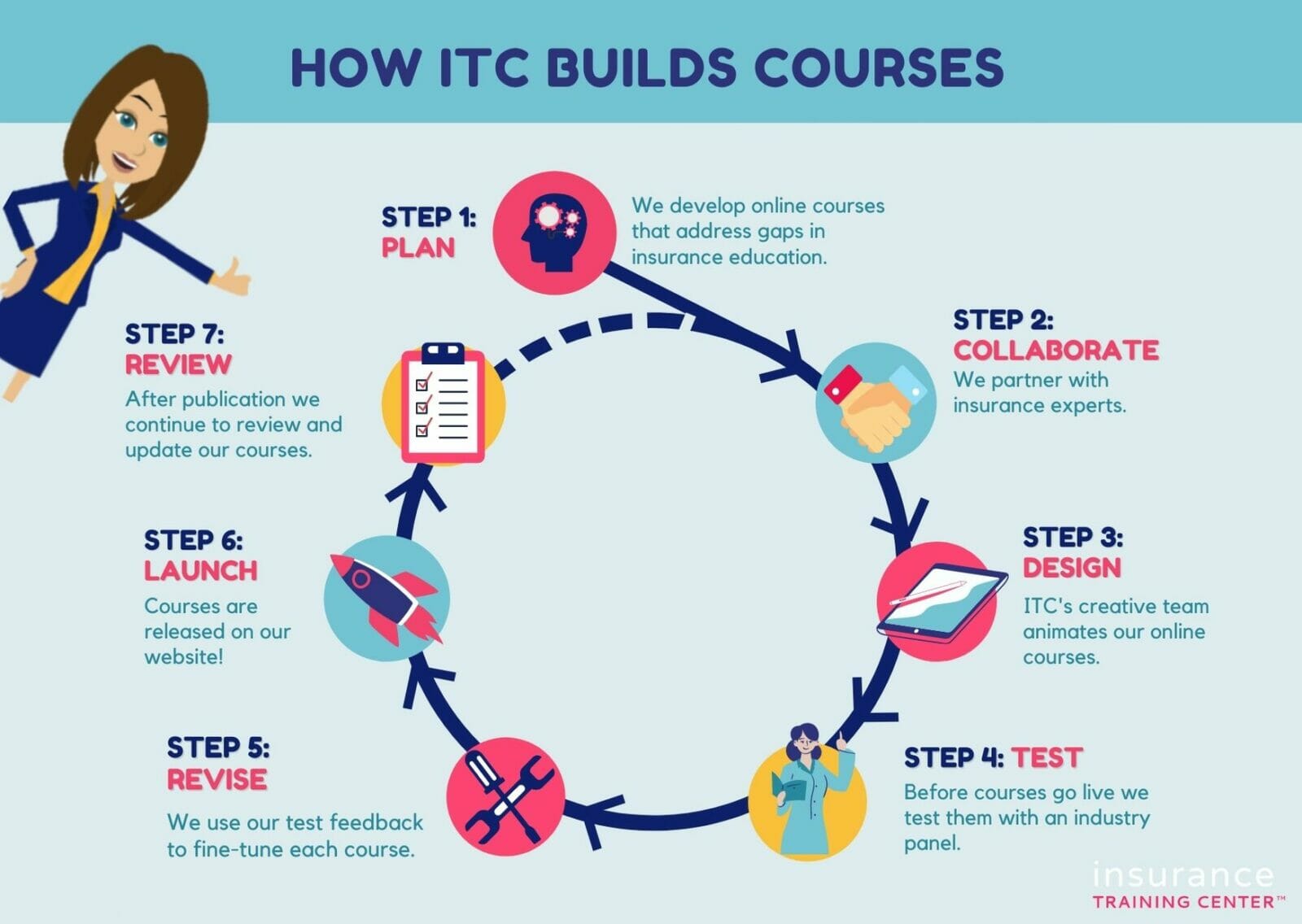 "Great courses take planning, standards and continuous improvement."
Designing and creating courses is what we do. The ITC team works hard to develop top-notch courses that address knowledge gaps in insurance education. The above diagram illustrates the 7-step process that we use for all our courses. Note how closely we work with industry experts. To zero in on education areas of need, we draw on our own industry experience, monitor industry developments and most of all, we listen to industry insiders and experts. Then, with a topic in hand, we partner with subject matter experts to build out the course content and validate our presentation of that content.
Most importantly, we focus on always improving. Our courses are tested, revised and reviewed. And when needed, we update, expande or even reissue a course. At the Insurance Training Center, we are committed to delivering quality courses that remain accurate, relevant and up-to-date, long after they are first published.