The Insurance Training Center is an accredited course provider with the Insurance Council of BC.  This article summarizes the annual continuing education (CE) requirements set by the Insurance Council of BC on June 1, 2021.
Add a header to begin generating the table of contents
Annual CE Credit Requirements
Per Council Rule 7(5), licensees must meet the following requirements of the CE program established by the Insurance Council of British Columbia: 
*Each hour of instruction time is eligible for one continuing education credit. Partial credits are granted in increments of fifteen (15) minutes.
Why contining education?
Licensees need continuing education (CE) in order to maintain a "standard of professional competence".  They also need it in order to maintain or increase their knowledge of the insurance products they sell.  Finally, licensees need continuing education in order to stay current with changes in the insurance industry. 
What qualifies for CE credit?
CE credit may be obtained through a variety of learning methods. In BC, accepted continuing education that qualifies for CE credit is technical material directly related to:
Insurance products*

Compliance with insurance legislation and licensee requirements. For example, Council Rules, the Council's Code of Conduct, the Insurance Act, and privacy legislation;

Ethics;

Errors and omissions; or

Management, accounting, and human resources (for nominees and level 3 general insurance agents only).
*For Travel Agency Employees/Salespersons training must be related to travel insurance products.
What Does Not Qualify for CE Credit?
In general, non-technical course content and non-insurance content will not qualify for continuing education credit. In other words, course content that primarily involves any of the following does not qualify:
Marketing or sales techniques;

Service; 

Training on how to use computer programs;

Self-improvement or self-help; 

Non-insurance products (i.e., mutual funds or securities products and services); or

Hours spent developing, leading, teaching, or presenting a course or seminar.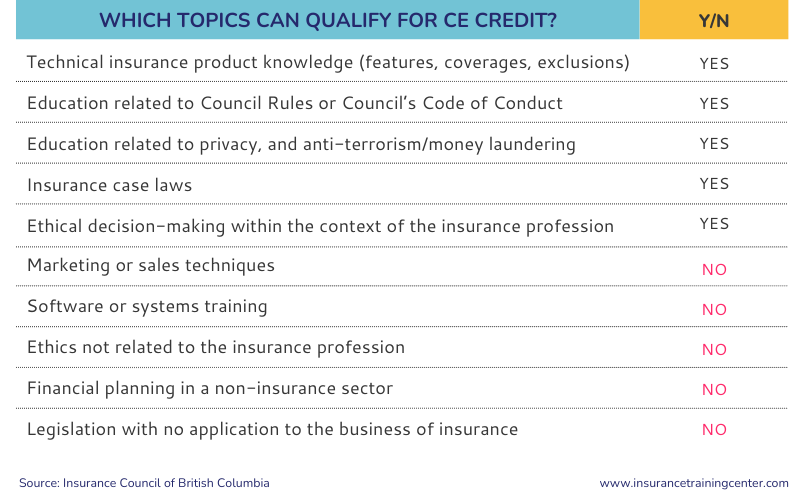 Record Keeping
The Insurance Council of BC requires all licensees to keep CE records for 5 years. 
Examples of continuing education records include:
continuing education certificates provided by the course provider; 

attendance sheets provided by the course provider; and

written confirmation from the course provider stating the course was successfully completed.
Keep all records including proof of attendance and completion, course name and description, relevant course content, and the number of hours completed. If you are audited, you will be asked to provide all records and certificates. 
Takeaways
​Licensees in each class of licence are required to complete a minimum

number of CE credits

for that class of licence.

The number of CE credits required is set regardless of a licensee's number of years licensed or additional professional designations.

Licensees can carry over up to one year's worth of CE credits.

Licensees are required to keep records of their completed CE for five (5) licence periods.

Licensees should keep detailed CE records in case of an audit.